Saturday Jan. 6, 2018 – PA Farm Show (Harrisburg, PA)
Playing for the Farm Team (Rich as Asa "The Count" Brainard)
Ag 102 Stage (Behind the Food Court in the Weis Exhibition Building)
Two programs:  3:00-3:45pm and 5:00-5:45pm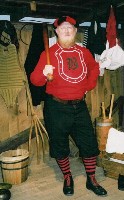 Have you ever thought about the cultural connections (language, customs, foodways, music, etc.) of baseball and agriculture? Many of the terms used in baseball past and present have an remarkable connection to farming and the land.
So, are you ready to go back to the past to understand the present? When the milking is done, we'll go out to that open pasture behind the barn where we play ball (ballfield). We'll hit daisy cutters (line drives) and prove that even a rube (hayshaker) can hit an apple (ball) over the fence. As a feeder (pitcher), Asa has thrown many a hot potato through a barn door.  Now, that's baseball!