Announcing – If you haven't already done so – check out and subscribe to Rich's free "Finding Tilden" video podcast series at https://www.youtube.com/@findingtilden/
2023 Program Schedule
Sat. Sept. 30 – Civil War Programs at 11am and 1pm at Jerusalem "Red" Church (Kempton, PA) as well as a 2:30pm graveside "Taps"ceremony.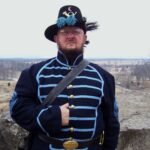 Discover the unique stories of two Civil War Union soldiers buried in the adjacent cemetery – Aaron Greenwald and Jonas Johnson. These two men came from two totally different backgrounds and experienced the war from different perspectives. In addition, there is something for everyone at this event – crafts, basket raffles, attic treasures and food too! For more details, see – https://www.facebook.com/events/1700242270490939/.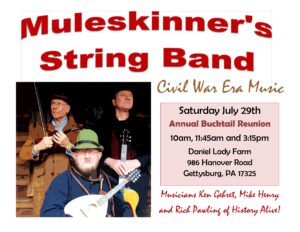 Muleskinner's String Band – Rich with Ken Gehret and Mike Henry – Appearing Sat. April 29 at the Camp Geiger Civil War Reenactment in Whitehall, PA and…Sat. July 29 at the Annual Bucktail Reunion at the Daniel Lady Farm in Gettysburg (programs at 10am, 11:45pm and 3:15pm)
Other Upcoming Appearances (Rich solo programs unless indicated) –
 Sat. May 6 – Nicholas Stolzfus Homestead Benefit Auction (1700 Tulpehocken Road, Wyomssing, PA)  – Look for Rich as he shares about the history of the nearby Union Canal throughout the day (beginning at 9am)
Fri. May 12 Allegheny National Forest (Old Powerhouse – south of Bradford, PA) – 5:30pm – ANF Centennial Program. For further information, see – https://www.fs.usda.gov/allegheny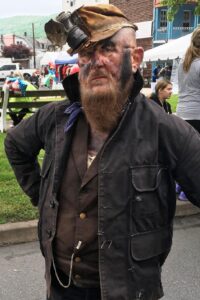 Sat. May 27 – Anthracite Heritage Festival (Shamokin, PA)  "Diggin' Dusty Diamonds" – music of the hard coal miners with Mike Henry (on stage 12-1pm); roving throughout the day.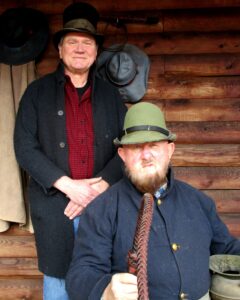 Sat. July 1 and Sun. July 2  Bark Peelers' Festival (Galeton, PA) Rich as "Lobby Hog" Jack Hains (and Frog Master too!) For further information, see – http://lumbermuseum.org/bark-peeler-festival/
Sat. July 29 – Annual Bucktail Reunion (Daniel Lady Farm in Gettysburg, PA) Muleskinner's String Band at 10am, 11:45am and 3:15pm (see above)
Sat. Aug. 12 – LeRoy Heritage Museum (Canton, PA) – 1pm – Lumber Heritage Program
Sat. Sept. 23 – Sinking Spring Public Library (Sinking Spring, PA) – "In the Steps of a Peacekeeper" (Conrad Weiser). Note: This program has been postponed until early 2024 (due to current road construction / accessibility to library; new date to be determined).