About Rich Pawling
Richard N. Pawling, a natural entertainer and former college professor, is a master at captivating audiences of all ages and ethnic backgrounds. He is the owner and educational/interpretive specialist of History AliveSM–a firm founded in 1991 that provides living history and heritage music programs and training workshops to parks, museums, colleges/universities, as well as civic, professional, and historical organizations throughout the United States and Canada.
In the 1980s, Rich was employed as a National Park Ranger assigned to Hopewell Furnace National Historic Site. His NPS accomplishments included the creation and design of the first person programming (living history) at Hopewell Furnace and winner of the "Interpreter of the Year (Freeman Tilden Award)" for the Mid-Atlantic Region of the National Park Service. In 1991, he began History Alive!SM and returned to adjunct college teaching–with a focus on cultural geography. Most recently, he was a full-time instructor of natural and cultural interpretation at Hocking College in Ohio–retiring from teaching in 2010. Twice he was awarded the "Outstanding Adjunct Professor of the Year Award" at Penn State Berks. Other honors include: winner of the Kutztown University of Rothermel Alumni Award, named one of KU's 100 Most Distinguished Alumni of the 20th Century, selection for Who's Who in America. He was also selected twice to the Commonwealth Speakers roster for the Pennsylvania Humanities Council.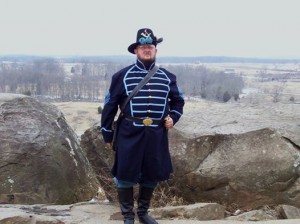 Paralleling his teaching career, his national reputation of excellence in living history grew, and he was the winner of the National Association for Interpretation (NAI) "Excellence in Interpretation Award"–a national distinction presented annually to one individual, institution or agency that has displayed excellence in the practice of frontline field interpretation and, through their efforts, have influenced others. He has completed the extensive requirements for certification by NAI as a "Certified Interpretive Trainer" (including Certified Interpretive Guide trainer).
Annually, he presents numerous History Alive!SM performances and workshops as well as participating in Civil War events with the Union Volunteer battalion as a supply wagon "muleskinner"(and in his former role as Principal Musician). In 1995, he took a year off from teaching to design and present 220 dramatic/multimedia performances of a program that summarized the 100 year history of the Pennsylvania Game Commission. He subsequently wrote and performed similar programs for Maryland's Natural Resources Police and the Colorado Division of Wildlife.
Other specially designed programs include acoustic Heritage Music programs and the company's Boys of Base Ball. The latter, a unique look at baseball's past designed for minor and major league ballparks, was featured at the National Baseball Hall of Fame (twice for Inductees Weekend and one time for Hall of Fame Game Weekend), as well as appearance at the Baseball Winter Meetings and the Little League World Series.
The company trademark History is People!® can be found on products including two CDs, History Thru Song and Hammered in Iron: Railroad Songs & Stories by Rich Pawling's History Alive! Boys. History Thru Song is a history of our nation as told through the songs of the laborers and songwriters of the 18th, 19th and early 20th century. Hammered in Iron: Railroad Songs & Stories is a double CD live concert recording focusing on railroad life and history that includes both music and interpretive introductions. A video series focuses on the working class and their role in American History. Two titles have been released in that series, including Buildin' the Rails: the Life of a Gandy Dancer (which aired on the History Channel) and Fire in the Hole! A Coal Miner's Tale.
Rich's graduate education, a Master of Science in Geoenvironmental Sciences was awarded at Shippensburg University of PA. His undergraduate degree was completed at Kutztown University of PA–majoring in education, environmental science and geography. Rich has authored Old Clothes: But All I Wanted to Do is Wear Old Clothes and Go Back to the Past, and three historical dramas–one on the history of Ephrata (PA) entitled The Ephrata Story: Schmutz, Bellyguts and the Dragon, Oil on the Brain: The Story of Pennsylvania's Early Oil Days, and A Line for All Times: the Mason-Dixon Line.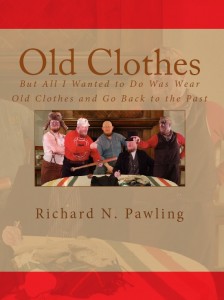 His other written publications include, "Geographic Influences Upon the Development and Decline of the Union Canal" Proceedings of the Canal History and Technology Symposium; "Hopewell Furnace: A Microcosm of America's 18th and 19th Century Cold Blast Charcoal Iron Industry", Pennsylvania Geographical Society; "Interpreting America's Forgotten Hero: The Common Laborer", "Back on the Road Again–Living History Off-site", "Getting It Right: Excellence in Living History", "Interpreting History Through Song", and "Hurrah for Our National Game: the Interpretation of Baseball" National Association for Interpretation Workshop Proceedings; and "Where We Have Come From, Where Are We Going: The Philosophy of Interpretation" and "For the Love of the Game: Interpreting Baseball" Legacy (NAI). Most recently he has presented papers at the annual meetings of the American Association of Living History, Agricultural Farm and Museums (ALHFAM).
Rich Pawling's History Alive!SM has presented interpretive living history/music programs or training sessions throughout the United States and Canada including the Colorado Historical Society (Denver, CO), Colorado State University (Fort Collins, CO), Tarleton State University (Tarleton, TX), Delaware State Parks, Maryland State Parks, California State Parks, Historic Southern Indiana, National Baseball Hall of Fame (Cooperstown, NY), Pennsylvania State Parks, the Pennsylvania Game Commission, Pennsylvania Historical and Museum Commission, U.S. Forest Service (Portland, OR), New River Gorge Nationall River (Lansing, WV), F.E. Warren AFB, "Fort D.A. Russell Days" (Cheyenne, WY), Fort Abraham Lincoln State Park (Mandan, ND), Fort Laramie NHS (Ft. Laramie, WY), Kansas State Museum, Land Between the Lakes NRA (Golden Pond, KY), BLM/Oregon Trail Interpretive Center (Baker City, OR), Rocky Mountain NP (CO), Bent's Old Fort NHS (LaJunta, CO), Little Bighorn NB (Crow Agency, MT), Grand Canyon NP (AZ), Havre de Grace Decoy Festival (Havre de Grace, MD), National Envirothon (U. of Pittsburgh, Johnstown, PA), The Wildlife Society National Conference (Snowmass, CO), the Maryland Forest Association (Solomons, MD), Parks Canada/Fort Wellington, Upper Canada Village (Morrisburg, ON), the American Association for State and Local History (Columbus, OH, Denver, CO, Pittsburgh, PA), the National Association for Interpretation Annual Workshop (Vail, CO; Charleston, SC; Santa Clara, CA; Washington, D.C.; Cleveland, OH; Orlando, FL; Billings, MT; Beaumont, TX, Anchorage, AK; Syracuse, NY, Des Moines, IA, Virginia Beach, VA and Wichita, KS), the NAI/CILH Section Workshops (St. Louis, MO and Portland, OR) and the Association for Living Historical Farms and Agricultural Museums Annual Meeting (Troy, NY, Hiram, OH, Princeton, NJ, Weston, WV, and Sturbridge, MA)