About Rich Pawling's History Alive!SM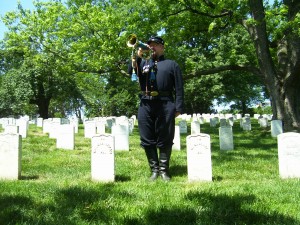 History Alive!SM was founded by Richard and Diane Pawling in 1991. The company focus is the development and presentation of historically accurate living history/first person interpretive characterizations and heritage music programs that are both entertaining and educational. In addition, Rich's growing national reputation for excellence in the field of cultural interpretation/living history has expanded company services into the areas of living history and general interpretive technique training, as well as video and audio production.
As stated in the corporate philosophy, "History is not merely a chronological record of events that took place in the past with no relevance to us today. History is People! History starts coming alive when you realize it is people that make history – not dry facts in a textbook. By looking at the past, we can learn more about both who we are in the present, and where we are going in the future." To continue to support our philosophy, History is People!® has evolved into the company trademark for products, including a videos produced by Time Warner and CDs, History Thru Song and Hammered in Iron: Railroad Songs and Stories.
History Alive!SM has performed or conducted training throughout the United States and Canada–including Alaska, California, Colorado, Florida, Indiana, Kansas, Maryland, Missouri, Mississippi, Montana, Nebraska, New York, North Dakota, Oregon, Pennsylvania, Tennessee, Texas, Utah, Virginia and Wyoming. Organizations/agencies that have contracted our services include: BLM/Oregon Trail Interpretive Center (Baker City, OR), California State Parks, Colorado Division of Wildlife, Colorado Historical Society (Denver, CO), Delaware Division of Parks & Recreation, Fort Laramie National Historic Site (WY), Indiana State Museum System, Kansas State Historical Society, Land Between the Lakes NRA (KY), Little Bighorn National Battlefield (MT), Maryland Department of Natural Resources,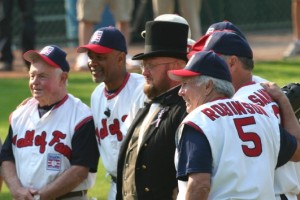 the National Baseball Hall of Fame (Cooperstown, NY), New River Gorge National River (WV), the North Carolina Transportation Museum (Spencer, NC), Palatines to America (Columbus, OH), Pennsylvania Game Commission, Pennsylvania Historical & Museum Commission, Pennsylvania State Parks, Rocky Mountain National Park (CO), Steamtown NHS (Scranton, PA), Upper Canada Village (Morrisburg, ON) and the U.S. Forest Service (Portland, OR)
In addition – annual conference presentations/addresses have been conducted for one or more of the following national organizations: American Association of State & Local History (AASLH) , the Association of Living Historical Farms and Agricultural Museums (ALHFAM), and the National Association for Interpretation (NAI).
History Alive!SM has received national and local awards in the field of interpretation including: National Park Service/Mid-Atlantic Region, Freeman Tilden Award, National Association for Interpretation (NAI), Excellence in Interpretation Award; National Association for Interpretation (NAI) Media Award–Outstanding Feature Article (Legacy),  Pennsylvania Historical & Museum Commission, Honorable Mention, Oil on the Brain (a historical drama written for the Venango Museum of Art, Science and Industry). Other personal awards received by Richard Pawling include:  Kutztown University, Rothermel Alumni Award and Penn State Berks Outstanding Adjunct Professor.