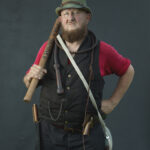 The Core of the War
Civil War Wagon Train Boss Mahlon "Muley" Tubbs
When General Sherman marched from "Atlanta to the Sea," he was accompanied by 36,000 mules, 32,000 horses (artillery, cavalry and ambulance) and 4,500 private horses (officers, chaplains, etc.). This is an amazing total of 72,500 equines, 6,300 supply wagons and 900 ambulances. And…don't forget the 60,000 soldiers plus free roaming cattle, pigs, sheep and chickens that also went along as food. This created a supply line stretching over 35 miles.
Rich Pawling's History Alive! has added a new Civil War program to our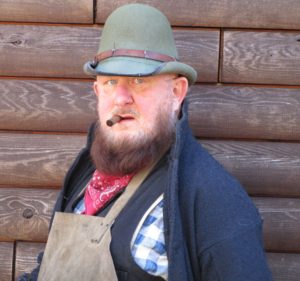 "arsenal" of living history characters – Supply Wagon Train Boss Mahlon "Muley" Tubbs. This first (and/or third) person portrayal of a contracted civilian wagon boss of a 25-wagon supply train interprets the vital, but often disregarded, role of supplying the armies (both Union and Confederate) during the American Civil War.
Dressed in authentic clothing of the period, Mahlon "Muley" Tubbs is complete with horse and mule smells, manure-covered boots, a mud-stained hat, and the attitude of a bald-headed, full-bearded man who gets along better with horses and mules than colonels and generals.
Depending on the venue, "Muley" Tubbs can come to your event or site with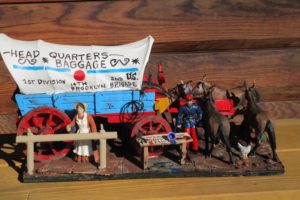 an accurate model of a six-mule supply wagon as well as a detailed compact three-panel exhibit which includes photographs and information on the muleskinners, wagon types, the value that horses and mules provided during the Civil War, the pain/frustration of working with mules and the life of an army mule and horse. This exhibit and extensively researched program tells the story of logistics and its importance during the Civil War.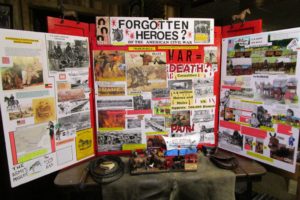 How can you interpret the Civil War, or a specific battle, without interpreting how the armies were supplied by wagon trains? Without supply wagons there would be no ammunition, no food for the army, no food for the horses and mules and no capability to even attempt engaging the enemy.