Sunday April 15  11am-4pm – WK&S Civil War Weekend (Kempton, PA)
It's Civil War Weekend April 14-15 at the WK&S Railroad in Kempton, PA. Supply Train Wagon Boss "Skinner"Tubbs will be in the Barn on Sunday April 15 (only) between 11am and 4pm to talk about his role in getting supplies to the Union forces during the war. He, and all other Civil War-era participants (including General Grant) will be in first person – turning back the clock to April 14,1865 (just after Lee's surrender at Appomattox). Bring the family, ride the train and be immersed in America's past. For further information and/or to buy train tickets in advance – https://www.kemptontrain.com/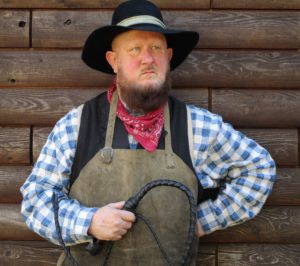 Saturday & Sunday April 28 – 29
Neshaminy State Park Civil War Reenactment
(Bensalem, PA) –This event was cancelled for security issues.

Saturday May 12  11am
Gravestone Dedication & Celebration for Forgotten Civil War Veteran, Aaron Kichline
St. James Lutheran Church / Straw Cemetery (Phillipsburg, NJ)
Rich will be participating in this event as bugler/musician. For more information – http://strawcemetery.org/
Saturday & Sunday June 9 -10
Cook Forest French & Indian War Encampment (Cooksburg, PA)
Conrad Weiser will be returning to this amazing event  – with a special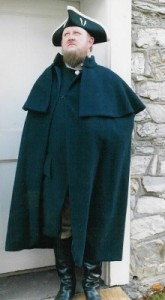 program in the Sawmill Theater on Saturday from 1-2pm as well as a Saturday evening 7-8pm program in the Log Cabin Inn Environmental Learning Classroom.
At the 1pm presentation, In the Steps of a Peacekeeper – learn about the life of this  unsung Pennsylvania hero who epitomizes life on the American frontier from 1710 until his death in 1760. During that time – he was a statesman, diplomat, traveler, judge, linquist, Lieutenant Colonel, farmer and official Pennsylvania peacekeeper.
For the 7pm program, Conrad will be joined by his compatriot, Stoeffel Stump (portrayed by retired history teacher Bob Fleck) as they reminisce about their 1737 winter "walk" from Heidelberg (present day Womelsdorf west of Reading, PA) to Onondaga (near present day Syracuse, NY) to preserve the peace between the Iroquois and Catawba nations.
You can also meet the "characters within these two characters" both days near the entrance of the Sawmill Theater.
For further information on this weekend event – http://events.dcnr.pa.gov/event/cook_forest_french_indian_war_encampment_5573#.WwyMt4oh3IU
Tuesdays-Thursday June 12-14, 2018   10:30am, 12:30pm and 1:30pm
Oregon Dairy Family Farm Days (Lancaster County, PA)
Join Conestoga Wagoner John Jacob Keplinger from Lancaster County as he tells stories from the past during his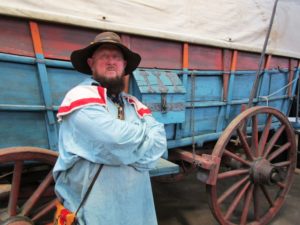 days of traveling the "turnpikes" of colonial Pennsylvania. You may be surprised when you learn the origin of terms such as "tailgating" and "dashboard."
Bring the kids and grandkids to this family-friendly event. For further information –
https://www.oregondairy.com/family-fun/family-farm-days 
Sunday June 24, 2018
Schuylkill Canal Festival (Mont Clare, PA)
Canal Captain John A. Hummel hauled goods and produce on a number of canals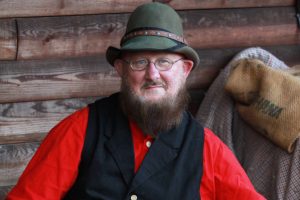 in Eastern Pennsylvania and New Jersey, but his favorite of them all was the Schuylkill Canal which ran from Port Carbon to Philadelphia. Hear the "sneckehorn" blow, and be entertained with the songs and stories from the past as "Cappy" takes you back to the "good old days."
For further information about this event –
http://schuylkillcanal.org/event-2948336
Saturday & Sunday July 7-8, 2018
Barkpeeler's Festival at the Pennsylvania Lumber Museum (Galeton, PA)
See the post to the left for information about this great event!