Shays, Peaveys and Woodhicks: Early Logging Days (Jack Hains, 1890's Logger)
9am – 4pm        $10.00 Adults   $3.00 Children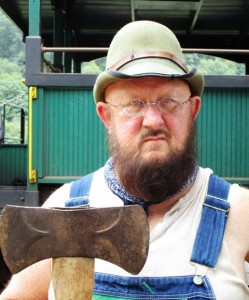 During this two-day Barkpeelers Convention Event, Rich will present programs as the spirit of 19th century "Woodhick" Jack Hains as he tells of the logging railroad era of the lumber industry. Learn about log slides, splash dams, Barnharts, Shays, "cookees", knot bumpers, peaveys, cant hooks and the "natural law of succession" of the forest.
In addition, he will emcee various participant events including the Frog Jumping event!
For additional information: http://lumbermuseum.org
PA Lumber Museum
5660 US Route 6 West, Ulysses, PA 16948
814-435-2652