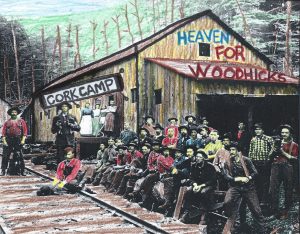 This unique hands-on history camp is designed for families with kids ages 10 and older.  Corks, calks or caulks are the spiked boots loggers wear. This experience allows your family to wear the clothing and immerse themselves in the lifestyle of the past. Adults will learn to master the tools and skills of the wood hick or bull cook/cookees of the 19th century while children get to participate in age-appropriate pastimes.
Participants will also play and eat like a logger and be taught (by Rich) how to portray a living history woodhick/lumber camp character – skills they will use to participate at the Wood Hick Grove at the Cherry Springs Woodsmen Show.
This event is co-sponsored by the PA Historical & Museum Commission and PA State Parks.
Call the Lumber Museum  at 814-435-2652 or visit their website at http://lumbermuseum.org/history-camp-pa-lumber-museum/for additional information.