Heritage Interpretation Training Center
e-LIVE Course
______________________________________________________________
Introduction to Developing Living History Characters and Delivering
Living History Programs
Registration is open for this course. Limited to 10 students at a time.
Email us at richpawling@yahoo.com to determine current availability.

Living History Course – 10 Units and 3 CEU Credits
Are you ready for e-LIVE interpretive training? JVA (John Veverka & Associates) is pleased to offer a selection of e-Live interpretive training courses being developed by Professor John Veverka and his Associates. We feel that any interpretive training experience should be taught by professional Certified Interpretive Trainers with college level degrees in heritage interpretation and/or with years of actual interpretive experience in the courses being offered, to deliver college level interpretive training courses. We also know that while many folks would like to attend formal interpretive training courses, time away from the office/home, course fees, and related travel expenses often made this an expensive proposition. With e-LIVE the coach comes to you.
About the Instructor: Professor Richard Pawling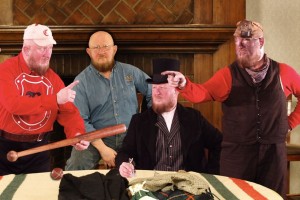 Rich Pawling has over thirty-five years of experience interpreting the natural and cultural heritage of the United States. Beginning his interpretive career as an environmental educator and later historian-naturalist at local and state parks, his evolution into living history began while employed as a National Park Service ranger at Hopewell Furnace National Historic Site. To help visitors there understand that this now pristine site was actually a dirty, smoky iron furnace in the 1830s, he chose to portray the charcoal dust-covered, tobacco-chewing filler of the furnace in first person. He was honored with the Freeman Tilden Award for the Mid-Atlantic Region of the NPS for his efforts in designing and presenting this program about the "forgotten heroes" of the past – the common laborers. In 1991, he launched his own entrepreneurial venture – Rich Pawling's History Alive! to provide living history and heritage music programs as well as interpretive training workshops to venues throughout the United States and Canada. At that time, he also returned to adjunct college teaching with a focus on cultural geography – routinely bringing culture to life in the academic classroom with living history representations of old-time baseball players, coal miners and loggers for over twenty years. His unique teaching style twice won him the Outstanding Adjunct Professor of the Year award at Penn State Berks. Most recently, he was a full-time instructor of natural and cultural interpretation at Hocking College (Ohio)–inspiring the next generation of interpreters and retiring from in-class teaching in 2010.
Paralleling his teaching career, his national reputation of excellence in living history grew. He was the winner of the National Association for Interpretation (NAI) "Excellence in Interpretation Award"–a national distinction presented annually to one individual, institution or agency that has displayed excellence in the practice of frontline field interpretation and, through their efforts, have influenced others. He has completed the extensive requirements for certification by NAI as both a "Certified Interpretive Guide" and a "Certified Interpretive Trainer" (including CIG Trainer). He also won an NAI Media Award for "Outstanding Feature Article" in Legacy magazine.
The keystone of his educational/interpretive philosophy is that "History is People! History only comes alive when you realize it is people that make history and not some dry facts in a textbook. By looking at the past, we can learn who we are in the present and where we are going in the future."
How does e-LIVE work? Our e-LIVE courses are limited to 10 participants at one time, to allow for maximum interaction with the course instructor. Once one participant completes the course another participant can be added.
– You'll be given course content to read and interact with for each unit.
– You will be provided with some reading assignments as part of the course, including segments from Rich's book, Old Clothes: But All I Wanted to Do Was Wear Old Clothes and Go Back to the Past. If you may want to purchase the complete book, see below (under Course Costs and Registration).
– You'll be given readings and a homework assignment for each unit which you'll send to Rich for review, comments and coaching. You'll be able to talk with Rich about each assignment via SKYPE, or by e-mail or phone. Thus the e-LIVE opportunity. Rich will be your instructor and coach who you can talk with at any time about your assignments. Remember that Rich is in Pennsylvania (Eastern Time Zone), so it's best to e-mail Rich to set up a time to chat.
– When you've completed each course unit you'll be sent the next unit for the course. Again, you'll be given assignments for that unit to submit to Rich for review, comments and coaching.
– When you've completed the ten units you'll be awarded a Certificate of Completion and 3 CEU (Continuing Education Unit) credits.
Additionally, you can work on preparing a living history character/program for actual use at your site. That is the benefit of e-LIVE – we are flexible in designing the course to meet your real-world needs.
The estimated completion time of the course is about 25 hours – and you can work at your own pace. What are the units?
Unit One – Interpretation Defined
* What is interpretation?
* Tilden's Principles – The heritage of Interpretation
* You follow in the footsteps of legends; the history of the interpretive field – living history
Unit Two – The Value of Interpretation
* The Interpreter/Living Historian vs. the Reenactor
* Where to start? Choosing the character to portray
Unit Three – Selecting the Best Interpretive Method
* Methods of Interpretation – 1st person, 3rd person, spirit past
* Building a time line – world, national, region, state, local, individual
Unit Four – Designing the Character
* Building the character – Outline (skeleton), Flesh (research), Soul (you).
* Beginning, Body, Conclusion
* Clothing the character
* The cost of doing a quality interpretive program
Unit Five – Making the Character Come Alive!
* Research makes the character believable
* What does culture have to do with it (foodways, customs, language, religion, music, ideals, law, business practices, etc.)?
* Studying people – behavior, the way they wear their clothes, how they walk and talk (dialects), facial expressions, routines, habits, etc.
Unit Six – Continually Adapting Your Character to Your Audience
* You and your character are one
* Keeping the character fresh/alive!
* Use of props and staging
* Practice makes perfect
Unit Seven – Preparation Builds Confidence
* Warming up before you jump into the pool
* Your first day as the other you! Don't forget to wear your life jacket!
* Designing multiple characters
Unit Eight – Controversy Builds Interest
* Politically correct history when you are trying to tell the truth
* Getting support from your supervisor
* Using firearms and other weapons
* Interacting in character with other 1st person interpreters – the play-by-play commentator and the color commentator
Unit Nine – Safety is #1
* Your safety comes first
* Who cares about the visitor? I am having fun
* Your opinion matters more than the visitor's opinion
* How to handle sensitive questions
*To chew tobacco or not? To curse or not?
* Handling children
Unit Ten – The Total Package = Success!
* Putting it all together/Onward and Upward
* Keeping up with the competition
* What living history character development has taught me about myself.
* Congratulations! – Give yourself a hug!
Course Costs and Registration
The cost for the 10 units of training with live interaction with the instructor is $275.00 USD. You can pay via credit card at PayPal. You can also pay by check or purchase order (to bill your agency). You will be provided with reading assignments, including pdf segments of Rich Pawling's Old Clothes: But All I Wanted to Do Was Wear Old Clothes and Go Back to the Past. If you wish to purchase your own copy of the complete book, you may do so either directly from our Products page (paperback only) or from www.amazon.com (paperback or Kindle).
Here is how to register for the course:
1. Contact Rich Pawling by e-mail to see if there are current openings in the course (limited to 10 participants at one time). Contact Rich at richpawling@yahoo.com.
2. If there are openings you'll be sent a simple registration form to fill out and return to Rich. If there are not currently any open spaces, Rich will let you know and if you wish, add you to the participant waiting list.
3. Once you receive your registration form/placement confirmation, you can pay the course tuition. You can pay by credit card or PayPal on our Products page. If paying by check (or you require an invoice), you can mail your payment (or purchase order) to Rich Pawling at the address below.
4. If payment for the initial course is received by January 11, 2016, Rich will send you Unit One and related course materials on January 18, 2016. He will also be happy to chat with you as well to make introductions and get you going. In you have any questions at all, please feel free to ask.
For payments by check or money order (in USD), mail to:
Richard N. Pawling
History Alive!
224 Mail Route Road
Sinking Spring, PA 19608