Saturday October 7, 2017 – Sizerville State Park (Emporium, PA)
Annual Fall Festival (11am-3pm)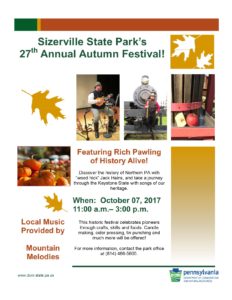 The Value of Wood During the 1800s in Northern PA  12:30-1:30pm 
Join the spirit of 19th century "wood hick" Jack Hains as he tells of the value of trees/wood during the 1800s in Northern PA – from the early days of pit sawing, to water-powered circular saws to band saws. Learn about log slides, tanneries, splash dams, knot bumpers, peaveys, cant hooks as well as Barnharts, Shays, Climaxes, Heislers and more!
Pennsylvania Proud: History Thru Song   2:00-3:00pm
Through music and song, Rich will take you on a musical heritage journey through the great Keystone State of Pennsylvania. At each stop in the musical journey, the history of PA and its role as the "keystone" to America will come alive in this inspiring program that combines vocals with the mandolin, guitar, banjo, harmonica and cornet in a style reminiscent of our Pennsylvania forefathers.
Sunday October 8, 2017 – Pennsylvania Lumber Museum (Galeton, PA)
Fall Antique and Collectible Show/Sale

Music of the 1840s-1920s  12:00-2:00pm (Visitor Center – Changing Exhibits Gallery)
Rich will present period music from the 1840s-1920s including favorites of the lumber industry such as "The Frozen Logger" and  "The Wild Woodhick." Instruments accompanying the vocals include mandolin, guitar, banjo, harmonica and the readily-available washboard!
Saturday October 14 and 21, 2017 – Duncan's Corn Maze (Robesonia, PA)
Trails of Conrad Weiser  2:00-5:00pm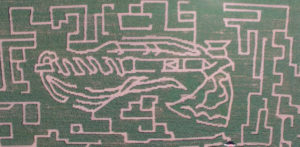 This year's corn maze theme (originated after Rich met the Duncans at an event and discussed the history of their area) is a peace tomahawk –  representative of the life of Conrad Weiser.
Born in Astat, Wurttemberg (Germany), November 2, 1696, this unsung Pennsylvania hero epitomizes life on the American frontier from 1710 until his death in 1760. During that time – he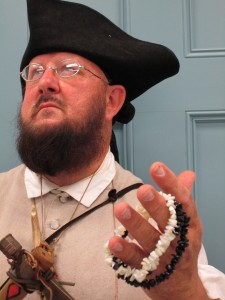 was a statesman, diplomat, judge, farmer, lieutenant colonel and official Pennsylvania peacekeeper.
In February 1737, with snow still on the ground, he walked  from his home in Heidelberg (now Womelsdorf) to Onondaga (near Syracuse, NY) to successfully maintain peace between the Iroquois of New York and the Catawba of Virginia. As you walk his "trails" among the maze, remember his adopted Mohawk name  – tarachiawagon – the man who held up the heavens. Learn more about this extraordinary man by meeting him (as portrayed by Rich Pawling) on Saturdays October 14 and 21 from 2-5pm. For more information see: http://www.duncanscornmaze.com/