August 4 and 5, 2018  10:00am (Camp opens to the public)
25th Annual Bucktail Reunion – Civil War Encampment (Driftwood, PA)

Ric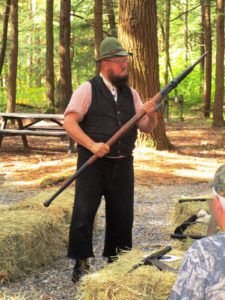 h will join members of the Pennsylvania Bucktails Regiment reenactment unit at this special weekend event celebrating the 110th Anniversary of the Dedication of the Bucktail Monument in Driftwood's Bucktail Park. This was the location where on April 26, 1861 more than 300 men (many of them"wood hicks" from the local lumber camps) constructed and boarded three large rafts for the voyage downriver on the Sinnamahoning River to the West Branch of the Susquehanna and from there to Harrisburg, where they joined the troops assembling to defend the Union.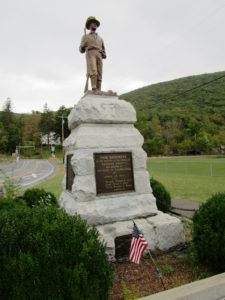 Rich will focus his presentations on what it meant to be a "Wood Hick" in the 1860s – complete with stories and songs of life in a lumber camp as well as examples of the tools that they used.
Other presentations include: John Stengel speaking on the Origins of the Bucktails and live music by the 6th New Hampshire Contra Band. There will also be a Church Service Sunday. Admission is Free. Refreshments available for purchase. See the Annual Bucktails Reunion Facebook page for additional information.
August 18 & 19, 2018
Civil War Museum (Harrisburg, PA) – 2nd Rhode Island, Co. B Encampment
Joining the 2nd Rhode Island, Co. B encampment for the weekend, Supply Wagon Train Boss, "Muley" Tubbs will expound on the importance of logistics, supply trains and horses and mules in the Civil War. He may even play a tune or two from his time during the day and talk about the role of buglers too!
For additional information on this event, click on the following National Civil War Museum Event Page.