August 3-4,  2019  (Camp open to the public at 9:00am August 3)
26th Annual Bucktail Reunion – Civil War Encampment
450 South College Street, Myerstown, PA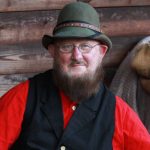 Rich will join members of the Pennsylvania Bucktails Regiment reenactment units at this special weekend event
He will focus his living history stage presentation at 10:30am on the persona of a Pennsylvania German canal boatman who worked on the nearby Union & Schuylkill canals – a published occupation of some of the members of the 149th and 150th. His presentation will be complete with stories and songs of life on the canal intertwined with the history of the Bucktails.
Other presentations during the weekend include live music by the 2nd South Carolina String Band with concerts at  2pm and 8pm Saturday. Sunday activities include a 8:15am morning service (in camp) and honor visits to the gravesites of Civil War Bucktails in Mt. Hope and Union Cemetery. The encampment closes at 12 noon Sunday.
The Bucktail Reunion event is free to the public and all are welcome to visit Bucktail Camp at the Myerstown Community Park. Rich (Cappy Hummel) can also be found in the pavilion near the encampment during the day on Saturday if you want more information about the history of the Union Canal.
For further info, see the Annual Bucktail Reunion Facebook page.  Map and Schedule below: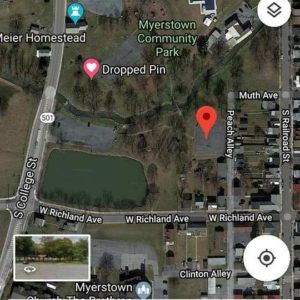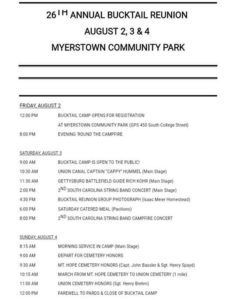 August 24, 2019  1:30pm, 3:45pm and 6:15pm
River & Rails Festival (Canal Place, 13 Canal Place, Cumberland, MD)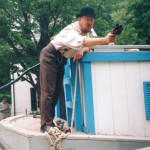 Rich will be presenting three programs of at this family festival at Canal Place in Cumberland (MD) –  focusing on the historic C&O Canal and its connection to coal mining and rails. All programs will include music and well as historically accurate information on each topic.
1:30pm (Stage #2) – Coal Mining Stories & Songs
3:45pm (Canal Boat) – Canal Stories & Songs
6:15pm  (Stage #2) – Railroad Stories & Songs
For more information about the festival, see the complete schedule of events below: